Services:
Installation

Ace Aquatics specializes in designing aquariums, ponds and water features. Which are not only aesthetically pleasing, but also as unique as the homes, offices and landscapes which they accentuate. All Ace Aquatics creations feature top quality filtration to ensure the water quality your fish need and the water clarity that you want to see. A first class water feature begins with an Ace Aquatics design.
Maintenance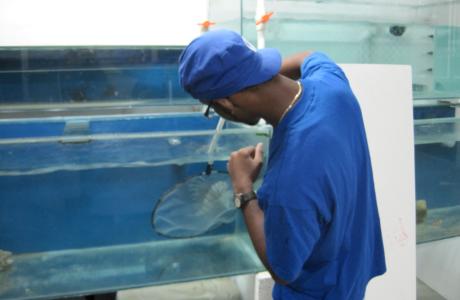 The key to an amazing water feature is proper maintenance. Pumps, filters, lights, in fact ALL equipment needs to be maintained at some point in time if it is to function atoptimum capacity. Water changing, cleaning of ornaments, tending to plants, medicating and health checks, water quality testing. We do it ALL! Call us and we'll design a maintenance program tailored to suit your specific needs.
Consultations

Even Do-It-Yourselfers can benefit from tips from the experts. With over a decade of experience, Ace Aquatics can save you heartache, hassle and lots of money. Call Ace Aquatics and benefit from our expertise.An Ace Aquatics consultation includes but is never limited to:
1. Planning, design and logistical analysis PRIOR to installation.
2. Sizing of necessary equipment and accessories for spectacular displays.
3. Identification of possible long term problems.
4. Problem solving and trouble shooting.
5. Disease diagnosis and treatment of fish and water plants.
6. Provision of stocking plans for display aquariums, ponds, irrigation and game lakes.
7. Water quality testing and analysis
Special Orders

Perhaps you've been searching in vain for a Hammerhead Mystic Shark. Pet Store not having much luck finding that Hi Shu Sui for you? Maybe you're just tired of having to wait till you go on vacation to bring back Flame Angels for your saltwater tank. We can help. Ace Aquatics, through our extensive network of top local and international breeders and aquaculture facilities can help you source, quarantine and stock top quality exotic fish for aquariums, ponds and even game lakes. Give us a call and see what we can do for
you.